News
St. Martins Lutheran Church First Annual Ghoultide Gala, October, 2011
Choreographed skeleton crew at rehearsal,
with Orghoulstra in the pit, and choir in
the bleachers.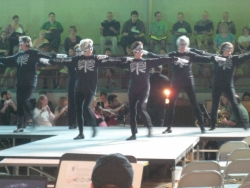 A Ghoultide Gala fundraising event was held in the fellowship hall and gymnasium at St. Martin's Lutheran Church at 15th and Rio Grande in downtown, Austin. All ticket proceeds benefitted Austin-based Mobile Loaves & Fishes.
The evening began with Ghoultide Gourmet, including Fang-Watering Fingerfoods and Ghoultide Spirits.
The program was based around the narrative poem
'Twas All Hallows Eve
co-written by Judy Beglau and Thomas Pavlechko. Leading the Ghoultide Scarols was a chamber orghoulstra and 100-Voice massed Ghoul Choir including members of the choirs of St. Martin's Lutheran Church, First United Methodist Church, First Baptist Church, The Women of Heartsong and the Austin Children's Choir. The story was brought to life with costumed and choreographed dancers and actors
§¬§à§á§Ú§Ú §ê§Ó§Ö§Û§è§Ñ§â§ã§Ü§Ú§ç §é§Ñ§ã§à§Ó
.
Following the show was more Ghoultide Gourmet, plus Ghoultide Guilt: Your Just Desserts for Your Sweet-Fang, and Ghoultide GoGo dancing for all.