News
Third Annual Ghoultide Gala 2014 the Biggest Yet!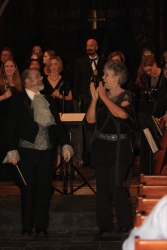 The ever-popular Third Annual Ghoultide Gala was held at St. Martin's Lutheran Church on October 12, 2014 to a wildly enthusiastic standing-room-only crowd. New this year, the Scare-rrator Operetta Trio told the poetic narrative tale of 'Twas All Hallows Eve. The amazing 55-member Orghoulstra and Deadbeats percussion accompanied the 110-voice Ghoul Choir made up of St. Martin's Choir, Capitol City Men's Chorus, Women of Heartsong, and Kantorei of the Conspirare Youth Choirs. And,
best replica watches
as always, our dancing skeletons, corpses, cadavers and pirates rocked the house. The Ghoultide Gala Reception followed in the haunted gymnasium. Donations were a benefit to St. Martin's Concert Fund, the underwriter for this event.